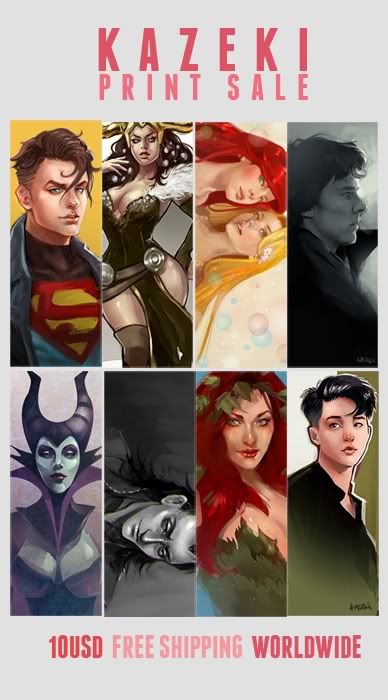 Hello everyone! There has been a lot of request from people for my prints lately
So I've decided to do a run of custom prints of my artworks.
Price
USD10 for each print
Free shipping worldwide
Payment
International buyers *PAYPAL ONLY*
Malaysian buyers - pm/email me kazeki1406[at]gmail.com
Order form
Name :
Artworks: (please provide me the link to artwork)
Address(zip code must included):
EXAMPLE
Name : Kazeki
Artworks:
1)Avengers sketchdump kazeki.deviantart.com/art/Aven…
2)Under the red hood kazeki.deviantart.com/art/Unde…
Address(zip code must included):
To order:
1) Send me an email/pm with your details following the order form.
2) I will confirm availability.
3) Make payment to my paypal account.
4) Wait for prints to arrive
5) ENJOY

-Each print will be on a 120gsm custom card and each piece is approx. 6x5 inch depending on the artwork.
-All artworks from my gallery are available for prints, please check them out here
kazeki.deviantart.com/gallery/
-If you have any other questions, please e-mail me kazeki1406[at]gmail.com or PM me

If you can spread this around, please do and THANK YOU VERY MUCH!